15 of the best direct to consumer (DTC) brands
By Keisha
1: BONOBOS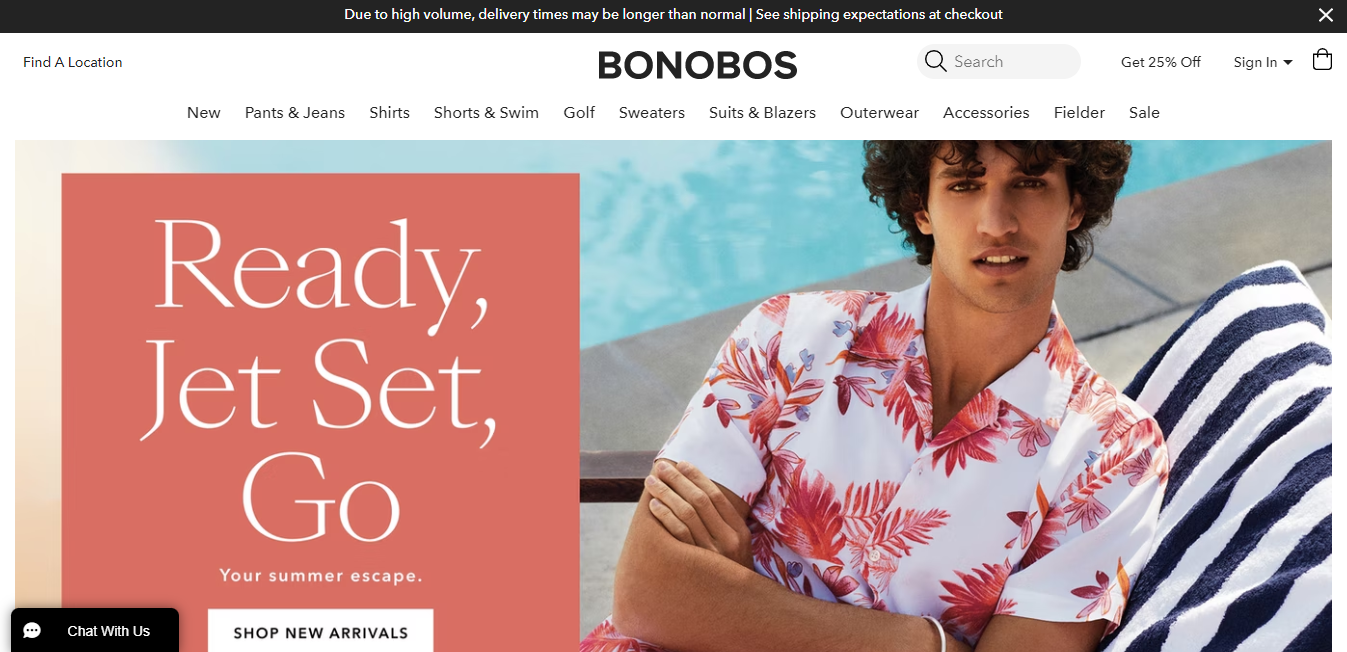 The first thing that catches your eye as soon as you click on this web page is the colors. The colors definitely invite you in and make you want to keep scrolling. As you keep scrolling you realize the page is full of awesome bright colors, giving off a summery vibe. There are a lot of different things to look at on the home page, but not in an overwhelming way. It is a page that is very easy to navigate, all it takes is one click to get to where you want to go. Once you make it to the bottom of the page, you will notice there is a call to action. If you sign up for email alerts, not only are you one of the first to know about any and all new products, you will also receive 15% off your first order. An easy to navigate, easy to look at page, while also being equipped with a CTA are key components as to why this website is ranked one of the most popular.
2: Away
Immediately after clicking on this web page, taking a vacation is going to be all that you can think about. The main picture used definitely draws you in and makes you want to pack your bags and head out. They are selling you on taking a vacation and what do you need for a vacation? You need luggage, which is exactly what you can buy on this website. In a sense they are killing two birds with one stone. These suitcases have more to offer than being fancy, they are durable and fit for traveling, coming equipped with a USB port. Away offers a 100-day free trial so take that trip and if you are not satisfied with your purchase you have the ability to return it. Giving the free trial shows how dedicated they are to serving their customers. For that they have become one of the most popular luggage brands. 
3: Chubbies
https://www.chubbiesshorts.com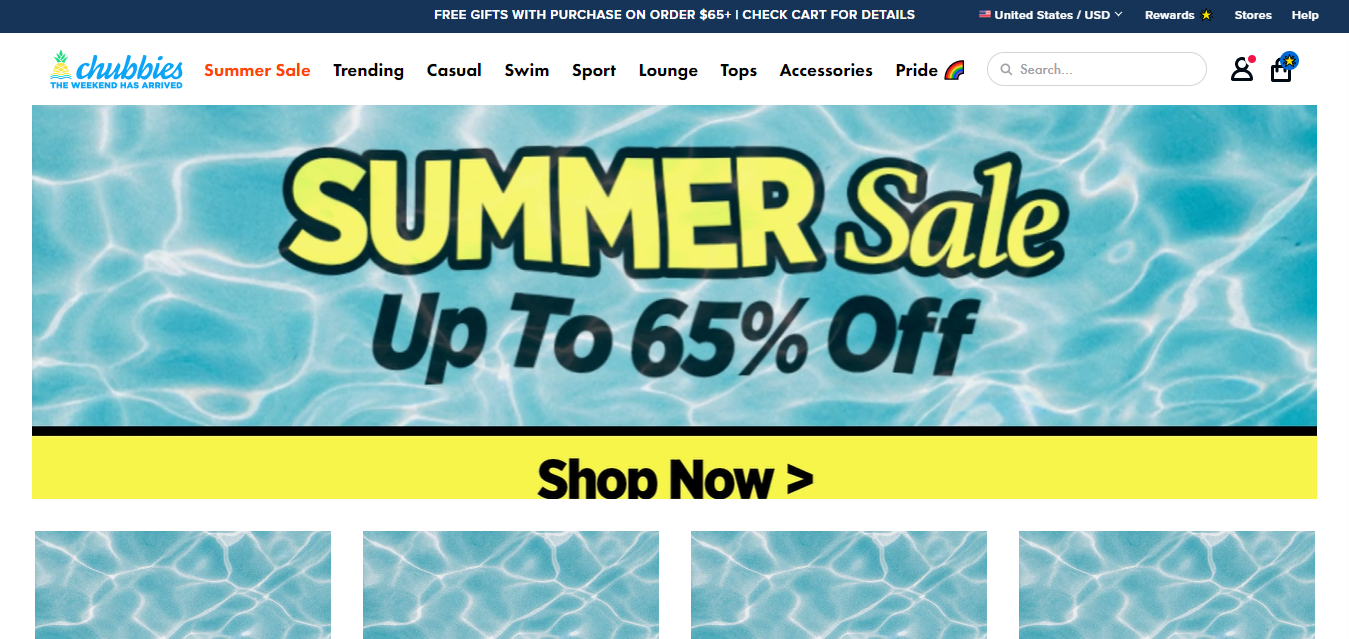 What stands out with this website is as soon as you click on it you are hit in the face with a sale, and who doesn't love a good sale. That alone is going to make you want to scroll further and check out what they have to offer. Besides the fact that they draw you in with a sale, they also have bright and vibrant colors that are very pleasing to the eye. This website is very user friendly and does not require many clicks to get to where you want. Having a website that looks well put together and is user friendly are key components in getting and keeping customers. Chubbies checks both of those boxes. 
4: Casper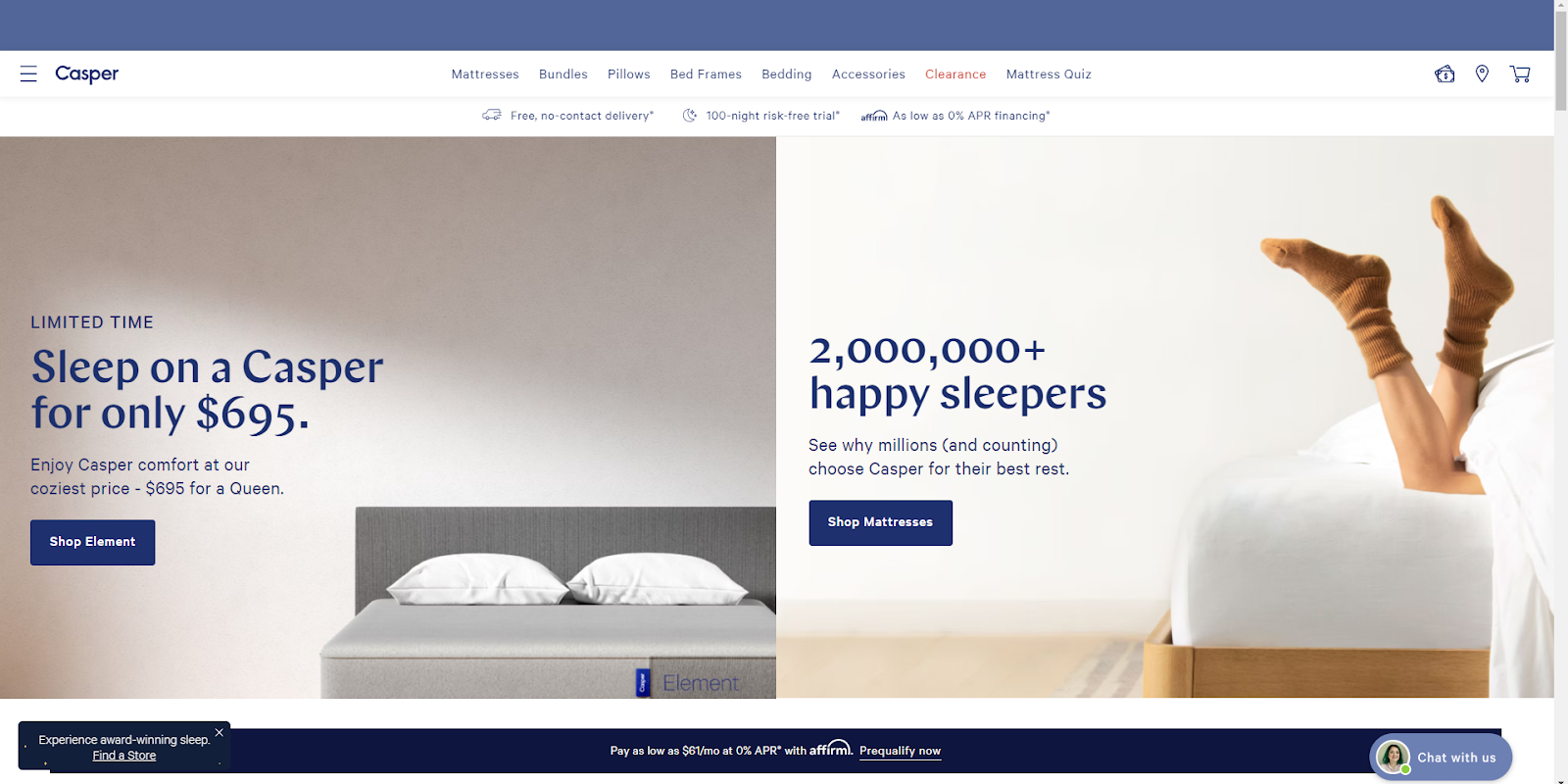 If you ever looked into buying a new mattress, I am sure you have landed on this site. This company is one of the most popular when it comes to mattress shopping. What used to be a hard and heavy process to get a mattress has now turned into a few clicks on the web. Just like that your new bed is being delivered to your front door. That is how Casper managed to grow exponentially. Their website has a lot to offer to potential customers. Starting right on the home page there are multiple reviews as well as financing options. Within the multiple tabs at the top of the page, they have a mattress quiz adding in a level of personality, which customers love. 
5: Happy Socks
https://www.happysocks.com/uk/collection/socks-for-men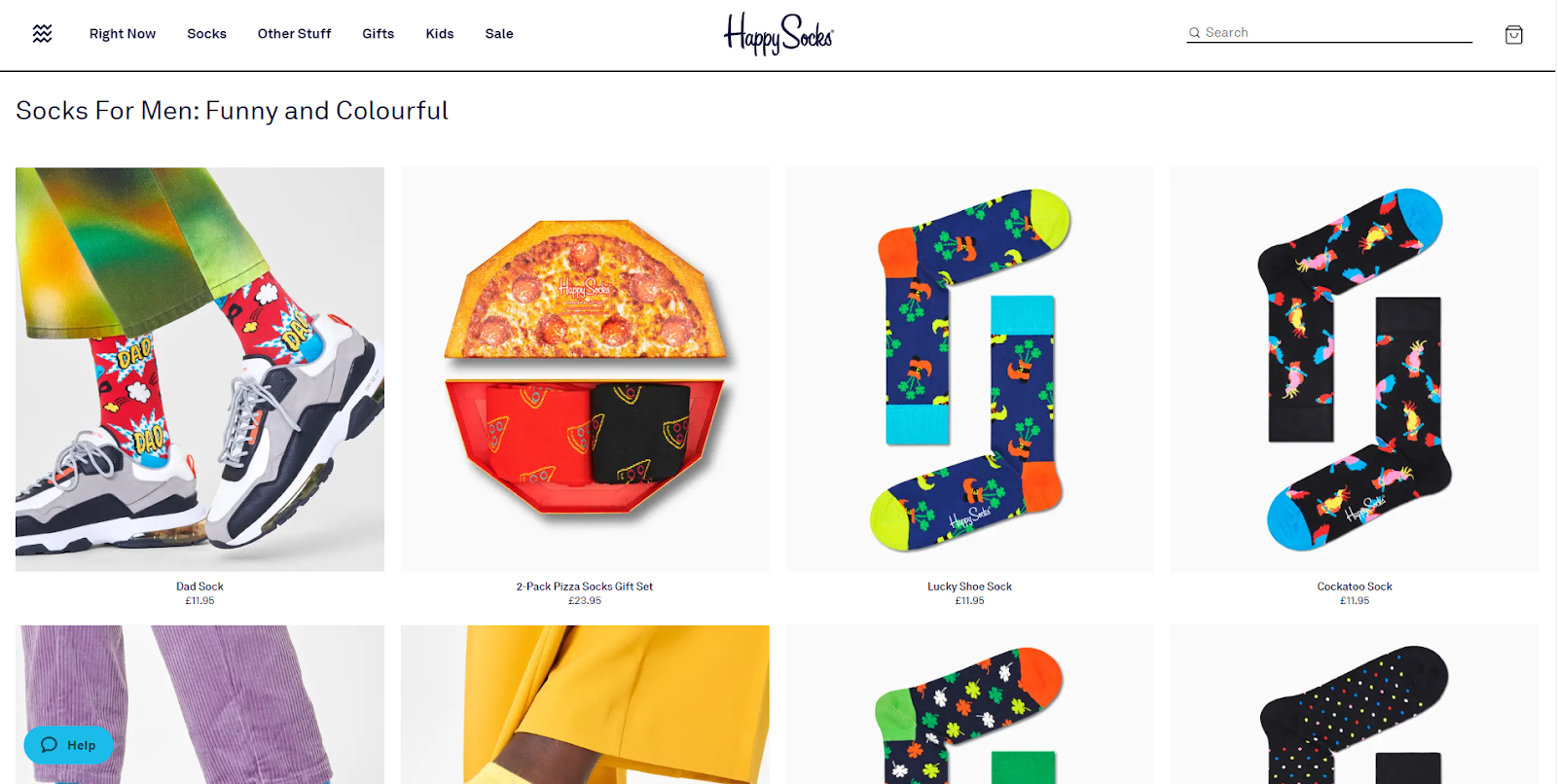 Happy Socks literally screams FUN! From the colors to the patterns and designs of the socks, there is no way you cannot scroll through the whole site. The home page is loaded with different products as well as the prices, so you really do not have to do that much clicking, which is always beneficial to the user. They offer five different ways to pay, one of them being apple pay, which is big as most people have an iPhone. There is shipping available for 19 different countries. And a call to action, where you can sign up for their newsletter by using your email and receive 10% off your first order. The more the website has to offer the more popular they will become, hence the reason for the growing popularity of this website. 
6: Outdoor Voices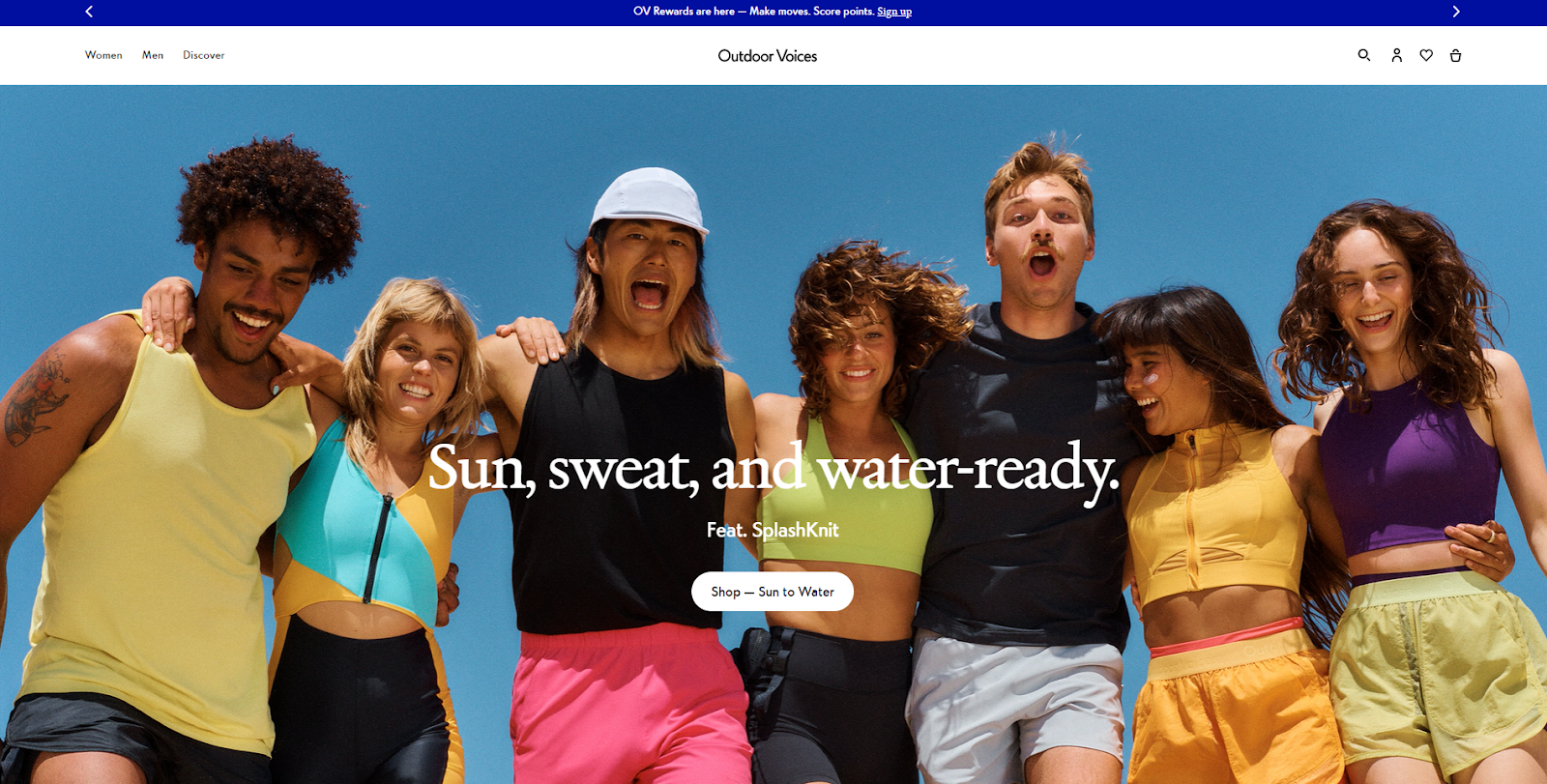 The slideshow of photos when you first click on this website is the real show stealer. Your eyes are glued to the screen because you want to see all the photos. Not to mention the colors they used compliment each other very well. As you keep scrolling down you notice they decided to use a few large photos instead of multiple little ones to display what they are selling. That was a good move as the choice of large photos makes the homepage look full but not cluttered. Another thing that makes this website stand out is the fact that at the bottom of the page if you hover over the photos they provide descriptions of exactly what the model is wearing. By adding unique features to their websites they are retaining current customers as well as recruiting new ones and that is how a business grows. 
7: Shein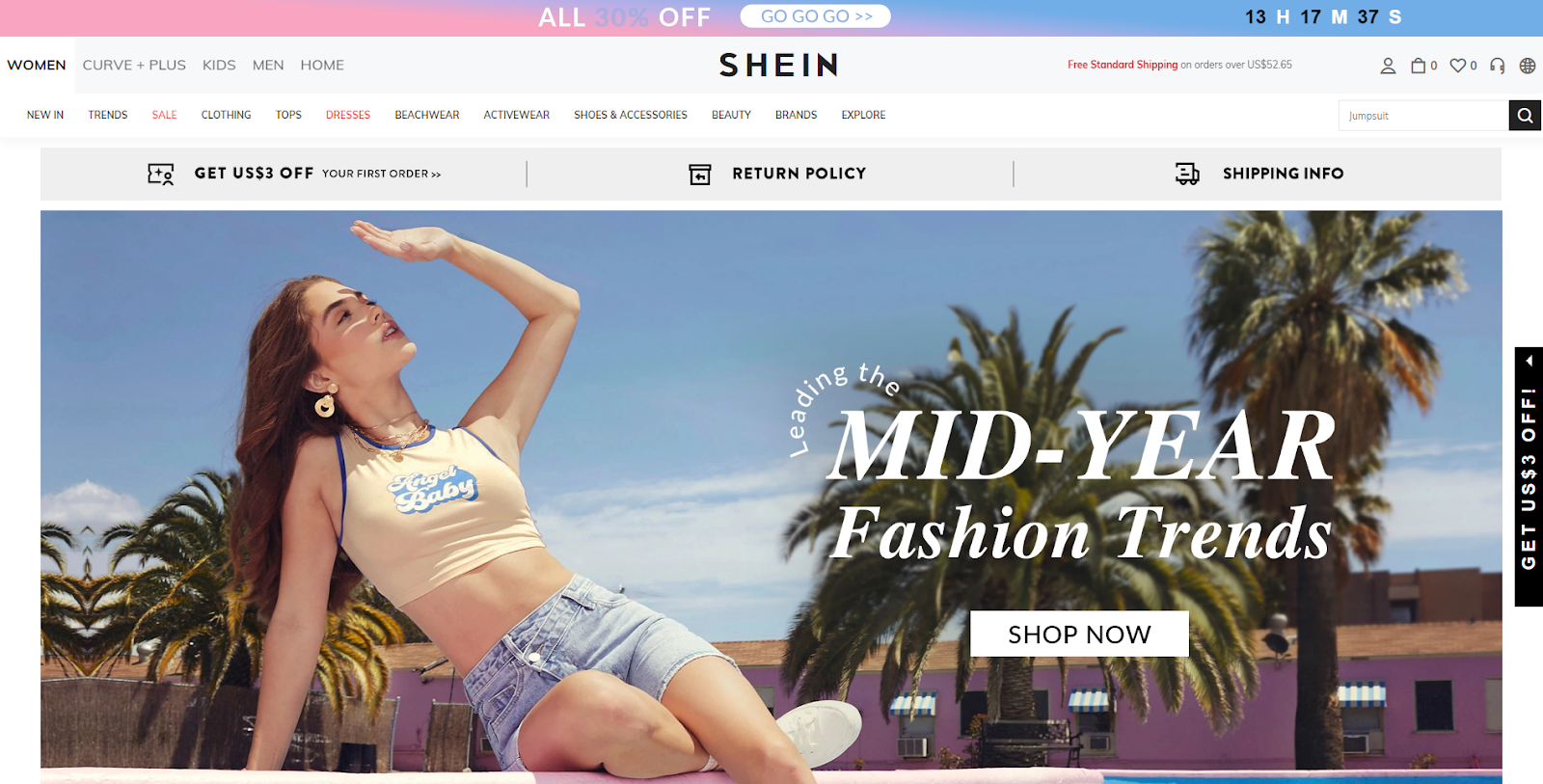 Everything about sheins homepage is a good marketing strategy. Almost the entire page is filled with sales and discounts, if saving money is what you are looking for, you don't have to look far! There is also a call to action that pops out within the first few seconds of being on their site. By entering your email and subscribing, they are offering $3 off as well as free shipping! Deals on top of more deals. Another feature that draws the user in is their color scheme, you definitely know it is summer time. Shein offers at least ten different ways to pay, which is more than most websites, and probably one of the reasons the site is so popular. Additionally they offer points for every item purchased, you can then use those points on your next purchase to save some money. With everything this site has to offer as well as how pleasing it is to look at, their growth is going to continue to skyrocket, making them one of the most known companies in the e-commerce industry. 
8: Warby Parker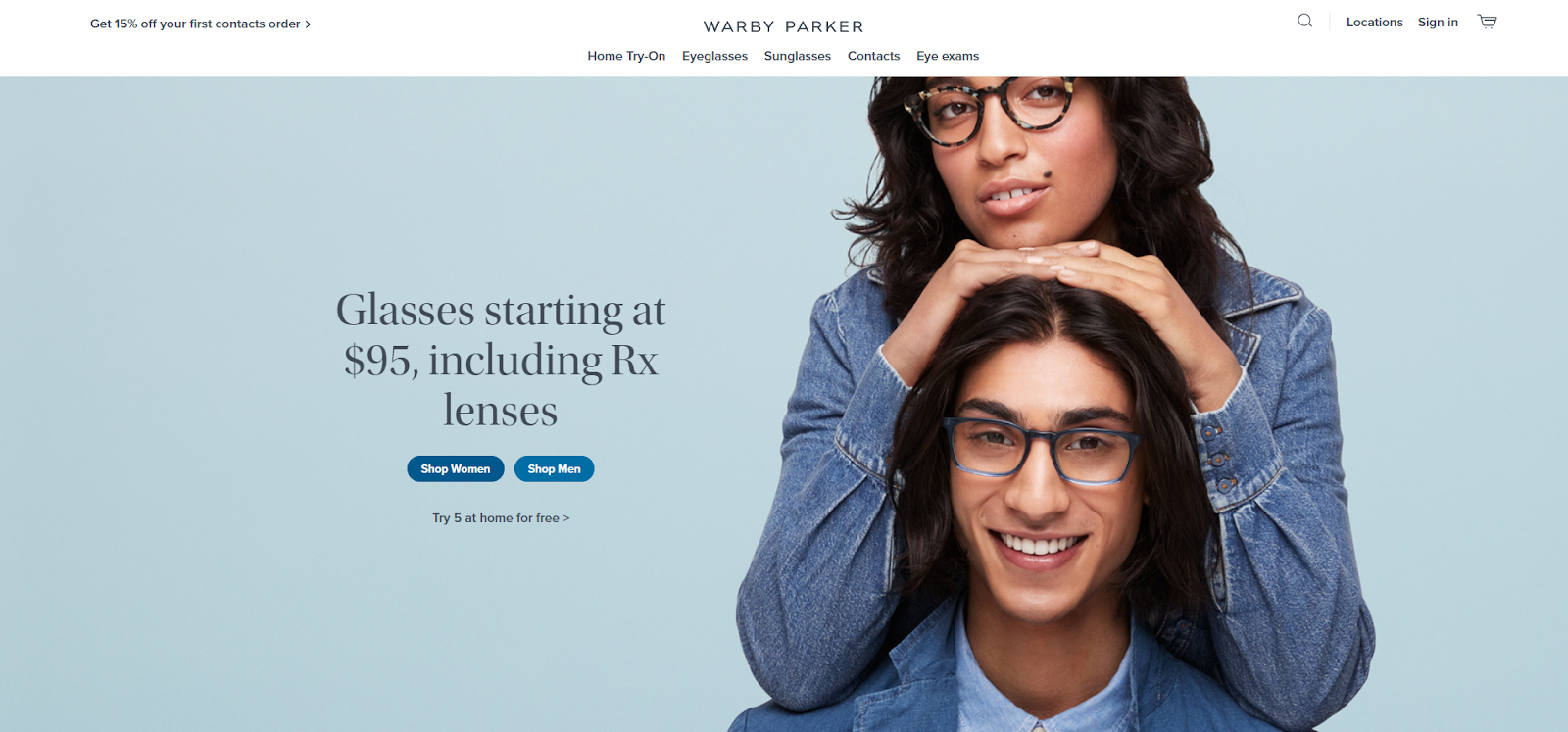 The simplicity of this homepage is great, there's not a lot of information, but at the same time there is just enough information to make you curious. For example on the homepage it says they have glasses starting at $95, if you wear glasses you know that is pretty cheap. So now you're interested to see what kind of glasses you can get for that price. Before you know it you are clicking around, going more in depth into the website, which is what they wanted you to do. They reeled you in by catching your attention with a deal you cannot turn down. The website is equipped with multiple ways to pay as well as four different ways to contact them if you should have an issue.   
9: Honest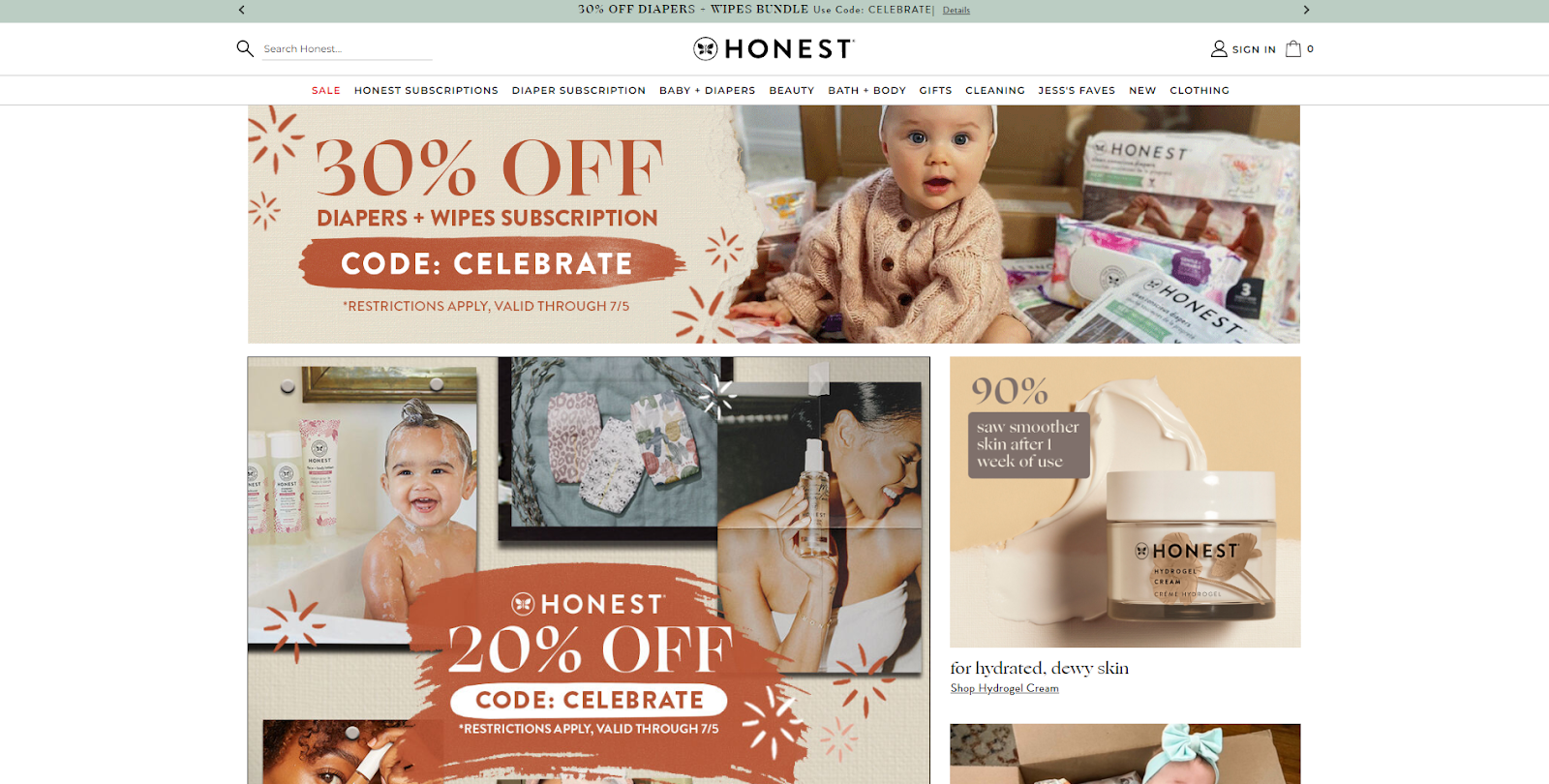 The honest company is arguably one of the most well known companies around.They provide their customers with effective, sustainable and ethical products. Head over to their website and you are greeted with many different sale offers as well as high quality images of their products being used. Take notice of the various calls to action incorporated throughout the page. Although the founder of this company is a celebrity, that is only part of the reason for their success. The real success and popularity comes from the trusted products. While these products are sold in different department stores, their online website offers things that stores cannot. Hence the reason why they are ranking as one of the most popular e-commerce websites. 
10: Black Milk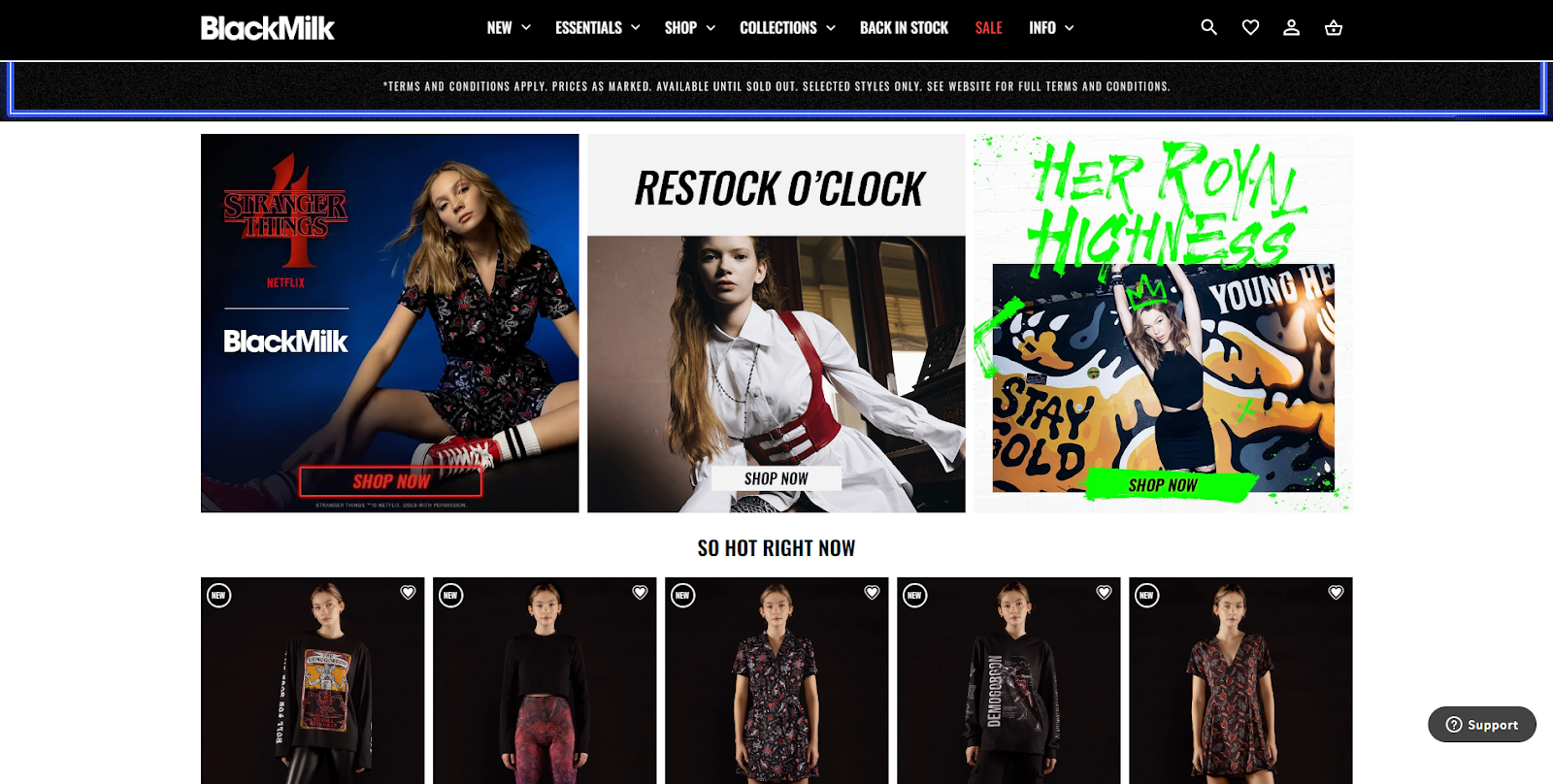 From the colors, to the font this website uses, everything stands out in a big way. They are definitely drawing people in and making them want to purchase something. When you look at their collabs, they are collaborating with pretty popular tv shows and movies just adding another reason to make people want to buy. Displayed on their homepage is the collaboration with Stranger Things 4, which half of the world is currently obsessed with. For the website to market that on the front page was a well planned marketing strategy to grab people's attention. There are also multiple different payment methods. Having more than simply one way to pay (VISA/DEBIT) is more appealing and attracts additional customers.
11: Aloha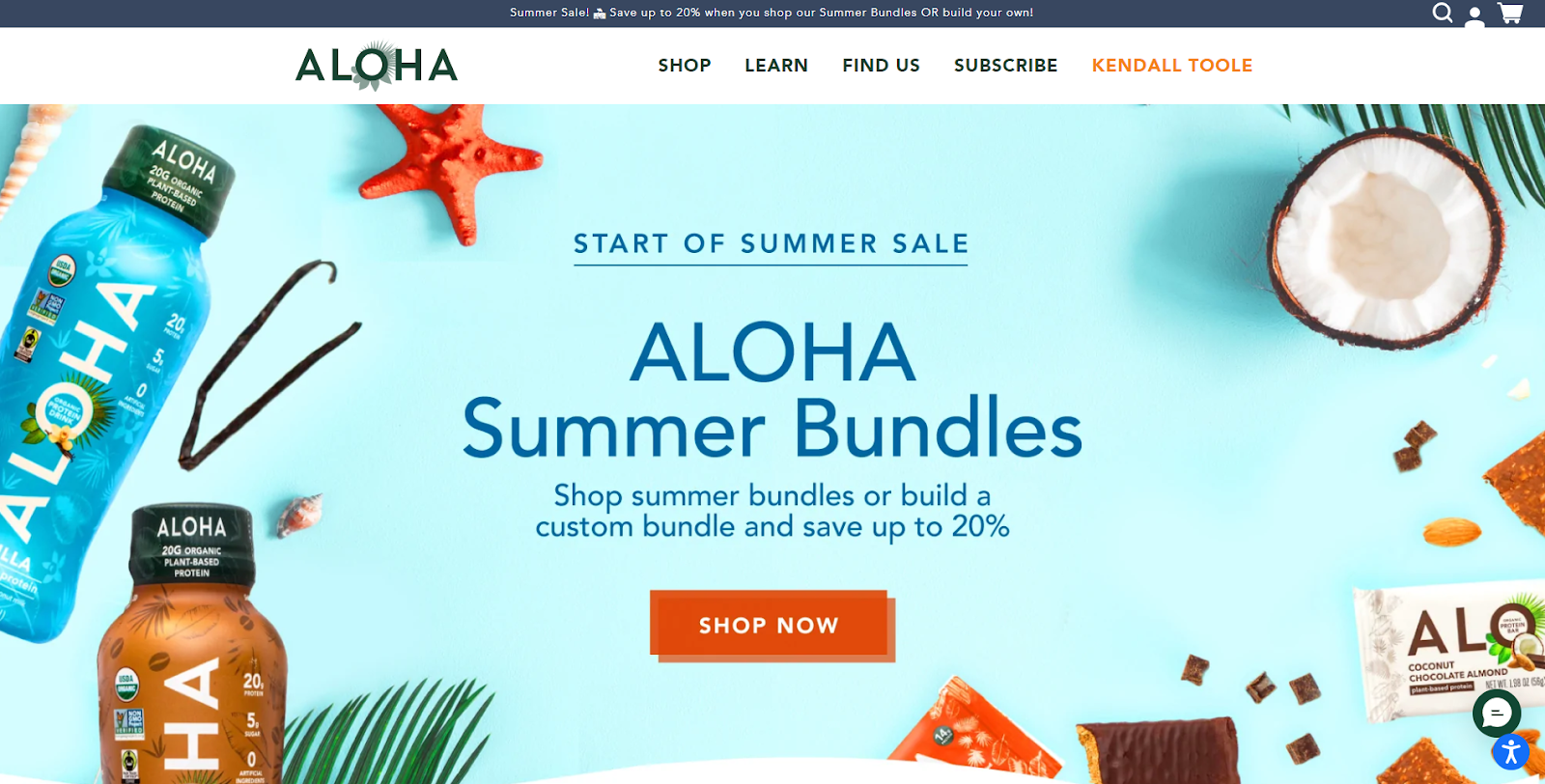 With the website/company being called Aloha, when you come to the page you are 100% greeted with a hawaiian vibe. I'd buy some of their products just to get the feeling that I'm in Hawaii! Another thing that draws you in is the information about the sale, because it is the first thing you see when you land on the web page. Whether you are going to buy something or you are just checking everything out 9/10 you are going to click on the information about the sale. Who knows, you may stumble across some awesome deals and end up making a purchase. They did a great job by making the sale the first thing you see. In a way it was click bait, you clicked it and now you're hooked. If they keep marketing their page in this way, their clientele is only going to grow making their business that much more successful.  
12: Snowe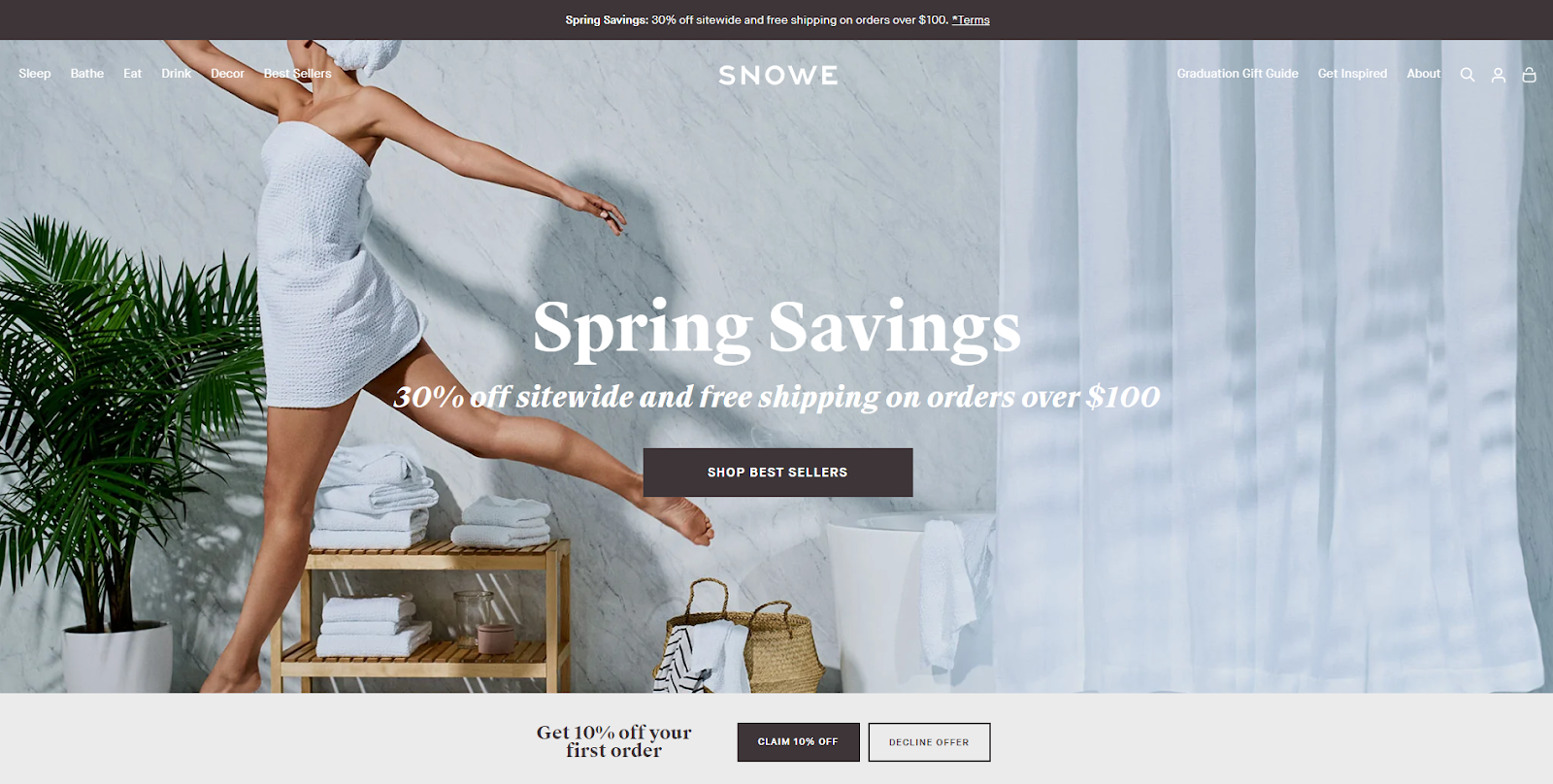 The color palette they chose to use is very warm and inviting, it works very well with the products they are selling. Not to mention the added pop of red in various places projects a nice touch of brightness. Another eye catching addition to the homepage are the reviews from multiple high end magazines. With reviews like those, in plain sight for the customer to see, a purchase is more likely to happen. The five star reviews are an important factor in making this company one of the top e-commerce websites in the world today. 
13: Julep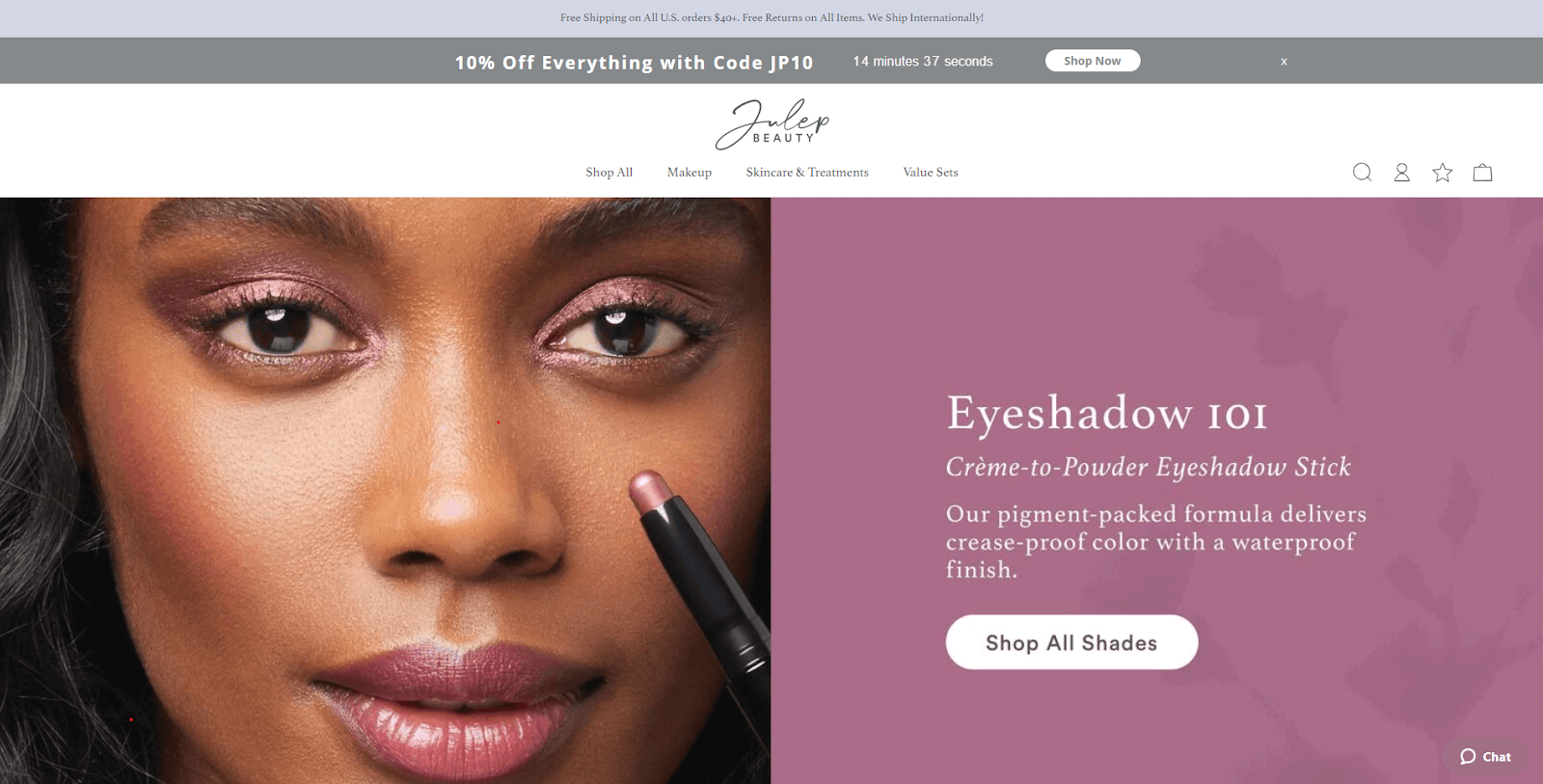 What is nice about this website is from the very moment you click on it, you can see all the diversity they are showcasing. For a makeup website, to display that is very important as you want to attract all skin types. The use of high quality images that display the products and texture of the products adds another aspect as to why this website is successful. Once you click on a product that you are interested in, you are given a brief but detailed description. In the world of beauty having that description is crucial as people want to know what they are putting on their face. The international shipping and the multiple forms of accepted payment methods add to the many reasons on why this website is rising in the e-commerce world. 
14: Adore Me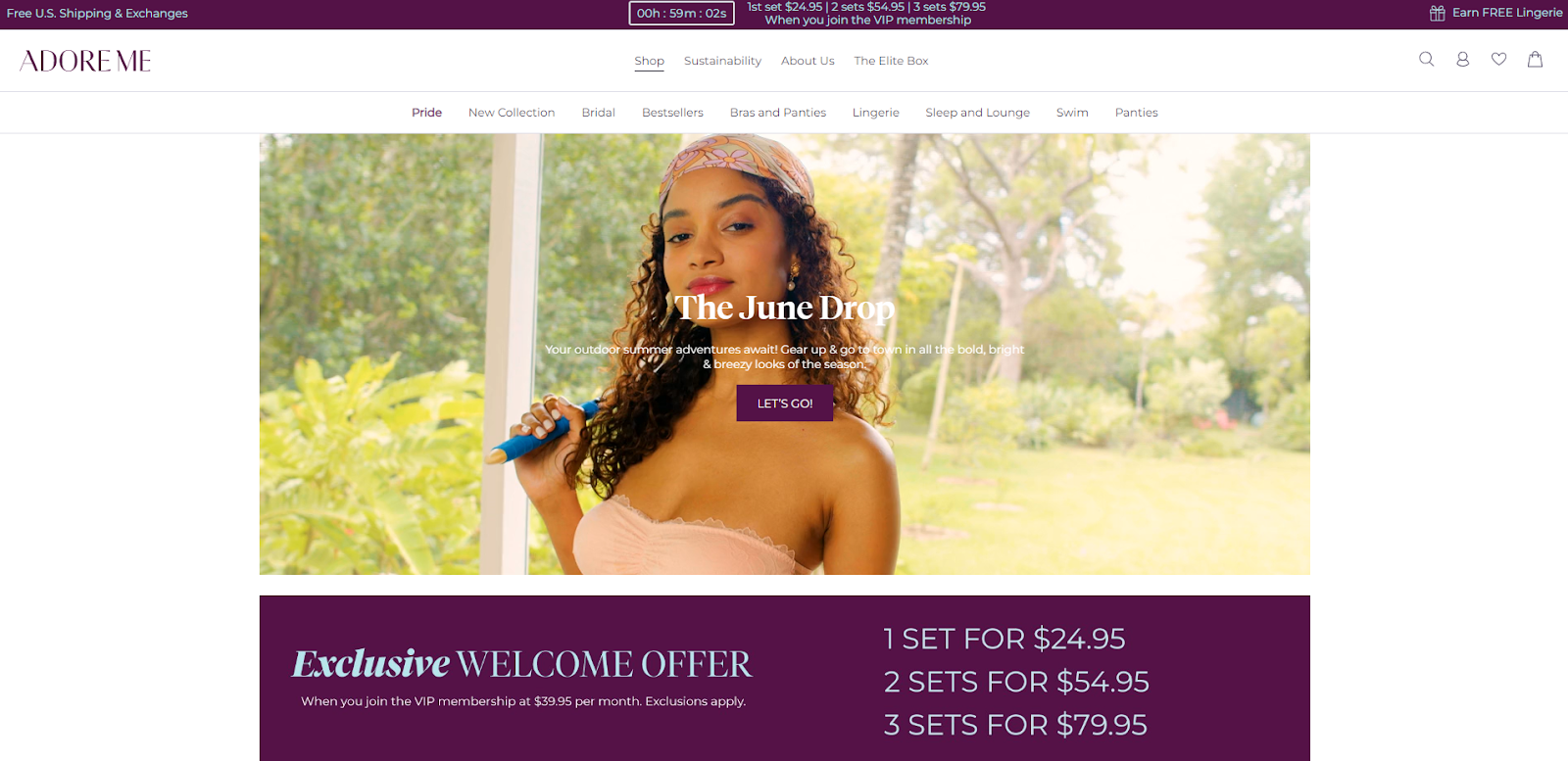 This website has all the aspects of leaving customers with a great experience. They offer free shipping, easy exchanges, rewards for members and there is even a place at the bottom of the page for customer feedback. Their site has all the right colors for what they are selling. Shopping for this type of product can at times be intimidating, but this website turned it into something fun! And for that, as well as everything else they have to offer, they are one of the best known brands for lingerie. 
15: Puravida
https://www.puravidabracelets.com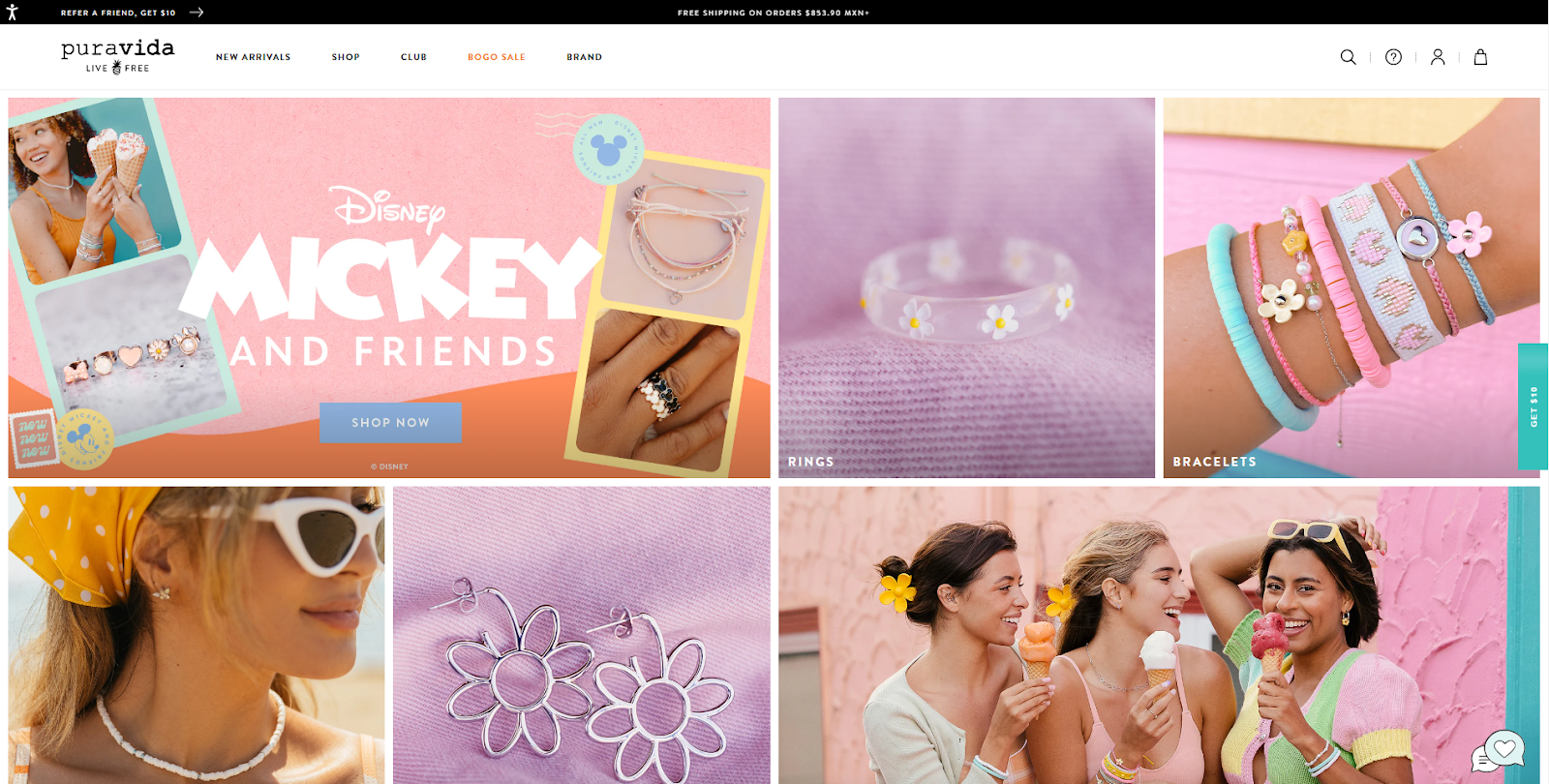 Pura Vida nailed it with the colors they chose for their website. The colors draw you in and make you feel like summer is here. They also showcase what they are selling in a way that is fun and playful. With the five star reviews they have displayed at the bottom of the page, there is no way you are going to leave the website without making a purchase. Everything that a customer could want in an e-commerce website, Pura Vida is delivering. Which is why they are a company known worldwide.